goGet CCTV - Hik Video Downloader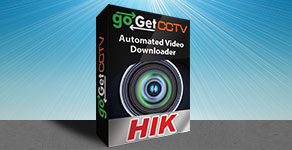 goGet CCTV
Handy little download program, useful for the bulk downloading of CCTV footage. Compatible with most Hikvision DVRs and NVRs.
SOFT1110
SOFT1110
View Offer
SoftCCTV.com
https://softcctv.com/store/Item/CCTV-Security-Automated-Video-Downloader-Hik
goGet CCTV - Hik Video Downloader
goGet CCTV - Hik Video Downloader
The GoGet CCTV Video Download Software makes retrieving & downloading your CCTV footage simple!
Schedule CCTV Downloads to your networked PC
Even Schedule CCTV to be Downloaded over the Internet
Great for overnight downloads of large CCTV files
Perfect for routine back-ups of recorded footage
Simply pick a DVR/NVR, time and camera channel
Compatible with Hik DVRs and NVRs
The GoGetCCTV Video Download software is a really simple way of approaching a really boring task and can save a large chunk of time out of your day.
The simplest way to view footage from your HIK Recorder, ideal to give to staff or temporary users access to a camera image without allowing full access to the client software.
This software is available as a download link supplied by email after checkout.
Exec Time: 0.113638 Seconds Memory Usage: 3.313637 Megabytes