RoboPlate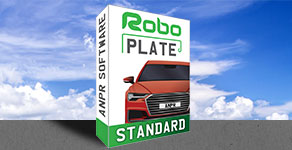 RoboPlate
Competitively priced ANPR software for compatible CCTV systems. This single channel version supports vehicle group memberships and scheduling of events.
SOFT1030
SOFT1030
648.00
SoftCCTV.com
https://softcctv.com/store/Item/RoboPlate-ANPR-Number-Plate-Recognition-Software
RoboPlate
RoboPlate
An affordable, standalone ANPR solution, roboPlate captures and stores licence plates for later interrogation and triggering of access control such as gates and barriers.
Stores plates locally for retrospective searching
Search your ANPR database from a secondary PC
Compatible with UK and most European plates
Standalone software works with suitable cameras
Displays pop up messages for receptionists & security staff
Sends an email to business owner or a monitoring station
Easy to create whitelists of approved vehicles
Group Membership feature for extra functionality
Triggers a pre-recorded sound/message file on VoiceOff
Triggers network relays to open gates, barriers etc
RoboPlate software is a series of automatic number plate recognition (often abbreviated to ANPR or ANLR) modules allowing you to start with a basic system and bolt-on or upgrade as and when required. It makes a standard ANPR system affordable to any organisation even home owners and allows you to buy additional "nice to have" features at a later date.
Note: This software is designed for use with AlienDVRs only
Competitively priced ANPR software solution for compatible CCTV systems. This single channel version supports vehicle lists and has 24/7 event handling.
21 day demo version of the competetively priced single-channel ANPR software. 1 hour limited runtime, restart as many times as you like within the demo period.
This is a free download supplied by the manufacturer. Please scan the QR code supplied or add the item to your order and an email link to the file will be supplied after checkout.
This software is available in a try before you buy package.
Exec Time: 0.100426 Seconds Memory Usage: 3.37645 Megabytes