iOS App - AlienDVR iPad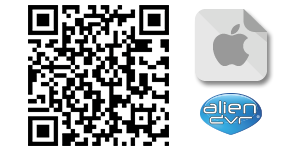 AlienDVR
iPad CompatibleApp for easy viewing of your alien CCTV footage on your tablet/iPad.
SOFT1503
SOFT1503
View Offer
SoftCCTV.com
https://softcctv.com/store/Item/Alien-DVR-iPad-CCTV-Security-App
iOS App - AlienDVR iPad
iOS App - AlienDVR iPad
Remotely View & Control your alienDVR CCTV footage with this FREE iPad App
Remote viewing of your CCTV on your iPad
Full or Quad Screen Viewing
Record footage locally to your device
Control gates and other relays remotely
Playback CCTV recordings and save video clips
Full screen control of live PTZ cameras
The alienDVR iPad app provides remote viewing, PTZ control, relay control and even quad viewing of a camera recording all on to the device. Use your device to monitor your CCTV system on the move, record footage and even control relay items like gates, barriers etc. The perfect accompaniment to an alienDVR!
Exec Time: 0.116959 Seconds Memory Usage: 3.155701 Megabytes