EasyIPscan IP Address Finder Tool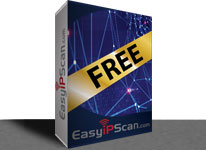 System Q (Trade CCTV)
EasyIPscan is a superb little tool for quickly finding all the IP addresses of devicves on your network.
SOFT1307
SOFT1307
View Offer
SoftCCTV.com
https://softcctv.com/store/Item/SOFT1307
EasyIPscan IP Address Finder Tool
EasyIPscan IP Address Finder Tool
Quickly find the IP addresses of your IT and CCTV devices with this handy tool.
Finds IP addresses in seconds
Free Download
Easy to Use
Fast to Install
How does easyIPscan work?
EasyIPscan is a free tool to allow network and CCTV engineers to scan a network in seconds for a snapshot of the IP addresses already taken so a new device can be added without a conflict occurring. This superb FREE tool even supplies the devices associated MAC address and a friendly description so itís easy to identify what equipment is using which address.
Zip Finder is a great tool for managing your IP cameras. It quickly finds and displays all of your Zip IP cameras on the network.
This is a free download supplied by the manufacturer. Please scan the QR code supplied or add the item to your order and an email link to the file will be supplied after checkout.
Exec Time: 0.108727 Seconds Memory Usage: 3.177788 Megabytes