CCTV Timelapse - Alien Single Channel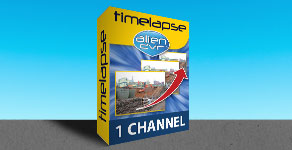 Alien
Useful software module that allows you to capture a series of snapshot images from your Alien DVR (Channel 1).
SOFT1520
SOFT1520
113.76
SoftCCTV.com
https://softcctv.com/store/Item/CCTV-Security-Timelapse-Viewer-Alien-1ch
CCTV Timelapse - Alien Single Channel
CCTV Timelapse - Alien Single Channel
Capture and use images from your CCTV in a timelapse video - great to use on your website
Compatible with analogue Alien DVRs
Single channel version
This is a great tool for marketing your business especially if you deal with the general public. You can take snapshots of your shop floor, car park, sports facilities (anything that you capture on a CCTV camera) then display it in a timelapse effect to your website visitors.
Exec Time: 0.098353 Seconds Memory Usage: 3.385391 Megabytes